Ticmate Charity
Går det att driva ett företag som tjänar pengar och samtidigt bidrar till att göra världen lite bättre? Det tror vi. Därför har vi startat Ticmate Charity.
Vår passion på Ticmate är att erbjuda resenärer de bästa upplevelserna runt om i världen - information om och biljetter till internationella evenemang. Vårt mål är att driva ett långsiktigt, hälsosamt och hållbart bolag, som skapar värden för våra kunder, anställda, leverantörer och ägare. År 2019 består vårt team av 27 medarbetare, vilket motsvarar 18 heltidsanställda. Vi vill dessutom ta ett socialt ansvar och arbeta för en varmare och bättre värld – därför donerar vi årligen upp till 10% av vår vinst till Läkare Utan Gränser (MSF).
 
Sedan år 2009 har vi donerat 2 553 500 kronor till välgörande ändamål.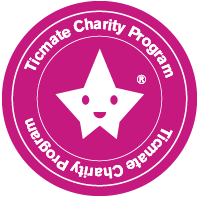 Läkare utan gränser
Läkare Utan Gränser/Medecins Sans Frontieres/Doctors Without Borders (MSF) är en medicinsk humanitär organisation som räddar liv och lindrar nöd där det behövs mest. MSF bistår människor som drabbats av kriser, krig och naturkatastrofer oavsett politisk åsikt, religion eller etnisk tillhörighet.

Vi på Ticmate stödjer MSF i deras arbete och har sedan 2011 donerat 2 123 686 kronor:

Mellan 2015 och 2018 donerade vi 1 040 000 kronor till MSF:s arbete med att hjälpa flyktingar runt om i världen.

2014 donerade vi 450 000 kronor till arbetet mot Ebola och hjälp till katastrofen i Centralafrikanska republiken.

2013 donerade vi 200 000 kronor till MSF:s hjälparbete i Syrien.

2012 och 2011 donerade vi 363 500 kronor varav 70 186 kronor till MSF.

"On behalf of MSF I would like to thank you all at Ticmate for your hard work which resulted in a generous gift to our work with Ebola and our projects the Central African Republic. We are really impressed by and thankful for your commitment to our organisation and the work we do."
- Katharina Ervanius, Företagsansvarig 'Läkare Utan Gränser'

Här kan du läsa mer om hur Läkare Utan Gränser arbetar. Läs även en artikel om Ticmates samarbete med Läkare Utan Gränser (sidan 12).